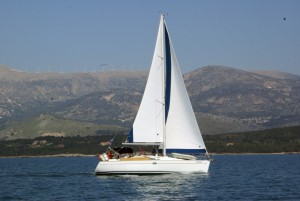 Dear friends of kefaloniasailing and 'NIONIOS',
We greet you again after a long period of silence! You see we fell in hibernation and had a deep rest too! However, we hav' got now sunny days again, the water is becoming warmer and our desire for sailing becomes even stronger. That's why captain Nionios screws, unscrews, paints, fades and does in general everything necessary so as to 'jump' into the water again after a perfect service. After he finishes with his job I promise you to do my best and get inside and outside a sparkling vessel! We hope to have everything ready by Easter and then start again the new season feeling refreshed and anxious.
By the way, we would like to propose you to enjoy a fantastic, to our opinion, video, uploaded on YouTube by some friends and last year's guests concerning their vacation with 'NIONIOS' in July 2015. This is the ultimate family and friends' holiday advertisement of sailing. It is obvious that they had a great time! We would like to congratulate them on their well produced and simultaneously entertaining Video and pay our thanks for sharing it with us, even though it consists of their personal moments. We feel great pleasure and satisfaction that we helped, as far as it concerns our part, to have fun safely and without problems. If someone checks on their video will understand exactly what we mean. We actually felt somehow jealous of their experience and we believe you will feel exactly the same. Press here to see the video.
That's all for now. We wish you all a happy and enjoyable spring, full of health, and a promising summer. And remember… We all worth spending unforgettable time with people we love. We believe this strongly and we really try hard for you to get what you deserve!
See you again soon with good news!
Dionisis- Evgenia